Councilwoman Tiffanie Fisher: 'NYWW, Monarch, Scooters & Safety'
Official release:




Dear friends and neighbors,
A lot of Hoboken related news over the past week or so that I wanted to update you on. Today's Jersey Journal cover touches on a couple: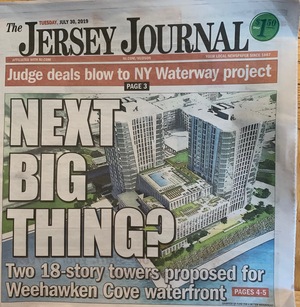 Here are the updates in this newsletter:
Former UDD

– Judge rules in favor of Hoboken!

18 Story Towers

planned for northern edge of Weehawken Cove – planning board meeting tonight

Monarch

– Mayor announces start of negotiations for a settlement.

Sinatra Drive Car Free Sundays

approved.

EScooters

–Mayor agrees to Council's request for new contract, my most recent discussion with Lime, and upcoming Council vote to ban E-Scooters from Waterfront Walkway.

2nd Ward (and 1st Ward) Safety Improvements Coming! – 14th and Garden Light on its way and 15th and Garden improvements hopefully too!

Mobile DMV (aka MVC) Van in Hoboken

– Would you want to see this again?

Questions on Recent Flash Flooding

– Why did we see flooding in areas we have never seen before?

Campaign for Re-Election Updates

– Thank you to those who came to support me and have already signed my nominating petition!

New –

online donation link

.
For those unaware, NYWW filed a lawsuit against the City to effectively circumvent the City's land use approval and permitting process and start to build their facility. Yesterday in Hudson County Superior Court,
the Judge ruled in Hoboken's favor
which effectively means that NYWW will have to follow our local rules including a trip to either the zoning or planning board in order to be able to build. During the hearing, the
attorney for NYWW referred to our hardworking Hoboken Police as "Gestapo
" in their enforcement tactics and I 100% agree that he/they should make a public apology for their statement.
The judges ruling doesn't necessarily mean NYWW will be stopped from building, and keep in mind that if NJ Transit steps in again these rules primarily go out the window, but it does mean that NYWW are not above the law and that we have more time to keep working together and with Governor Murphy to find the best solution. We haven't had enough wins on our waterfront in the last several years, but this is one.
MONARCH – PATH TO A SETTLEMENT?
Segueing from above, we have had two recent, and unexpected, positives regarding Monarch. First, on June 5th, the
NJ Supreme Court agreed to review
the appeal on the final litigation outstanding – whether Hoboken's local ordinances banning development on the waterfront for public safety reasons are valid against the Monarch. This is expected to be heard and/or ruled upon sometime in the next year. The scuttle bug is that for the NJ Supreme Court to consider this matter – effectively public safety vs. private commercial interests – signals they are leaning more favorable to the public's interest. That said, if history is a predictor of the future, I personally think it's a coin flip at best at this point.
Second, on July 22nd, the Mayor announced
a framework for a potential settlement with the owners of the proposed Monarch
(Applied / Shipyard / Ironstate) where the City may receive the Monarch site and a newly designed DPW garage, in exchange for the owners of Monarch getting to develop an amount up to the residential units that are already included in the
redevelopment plan approved in 2006
for what is commonly known as the DPW site (above the proposed new garage). As explained by the mayor to 2ndWard residents at a recent community meeting, the council will vote on this framework at an upcoming meeting (expected to be unanimous in support) and then will begin the due diligence and planning process including a full economic appraisal of both sites to understand the value of the trade and a plan to re-locate the garage during construction. This process may take up to a further 9-12 months. But a great start.
CAR FREE SUNDAYS IN AUGUST ON SINATRA DRIVE
At the special council meeting held on 7/18, the City Council passed 9-0 to reinstate Car Free Sundays. Originally the rush to vote on this was to accommodate all of July and August, but after further review by the administration, it seems that only two Sundays in August will work due to prior events and work schedule. So mark your calendars:
Aug. 11 from 8 a.m. to 5 p.m. Sinatra Drive will be closed from Newark Street to Fourth Street including parking restrictions.
Aug. 25, from 8 a.m. to 5 p.m. Sinatra Drive will be closed from Fourth Street to 11th Street including parking restrictions.
E-SCOOTERS – COUNCIL ASKED AND THE MAYOR (AND LIME) LISTENED
The Council voted unanimously for a resolution that sponsored asking the Mayor to renegotiate the terms of the contracts with both Lime and Ojo for the 6-month PILOT program. You can read the resolution
HERE
, but in summary it called for the Mayor to "either renegotiate the existing contract to include a comprehensive plan that ensures safety of Hoboken residents and visitors and includes fair compensation to the City of Hoboken for enforcement and education for the remainder of the trial period, or cancel the existing contracts."
After the vote, we were advised that the Mayor agrees with the City Council and will hopefully have a revised contract that is more favorable to Hoboken on the agenda at the 8/7 Council meeting.
I met with a representative from Lime who concurred that they had been working with the administration for about 2 weeks on contract terms that would be geared toward improved safety. I don't have the details but am confident the terms will be better. I have offered to the administration to provide further input/help on contract terms but they have not yet taken me up on this offer
J
.
The crux of my discussion with Lime centered around the use of scooters on waterfront walkway. Although I buy into the idea that our residents who are here every day can learn to ride more respectively through education and enforcement (and just repeated use), I am not convinced that we can make the same impact on those riding EScooters (irresponsibly) on the waterfront walkway who are more apt to be visitors. I asked that he provide us with more data around ridership in the different areas of Hoboken so we can better understand how best to tailor enforcement, education and safety plans.
That said, I am still asking my council colleagues to vote on 2nd reading in favor of banning them on the Waterfront Walkway at the meeting on 8/7.
2nd WARD SAFETY IMPROVEMENTS ON THEIR WAY!


The City announced this week that
two new traffic lights will be installed by the end of this summer
– at Hudson St. and Hudson Place and at 14th and Garden St. Although marketed by the administration as part of the Vision Zero program, the approval and plan for these lights actually pre-date this administration (happened under Mayor Zimmer) and even before my time on the City Council. Because of the cost and the need for County, State and PSEG coordination, they apparently take forever to get installed. That said I met with Director Sharp and City Engineer Kim Craft a few months ago and also spoke with the County to advocate for getting the 14th and Garden light done before the new school year starts. Everyone was skeptical at the time, but it looks like it is going to happen!
In response to this great news, I have asked for an update on the new flashing lights for 15th and Garden intersection. I am told they have been delivered and asked that they be installed, if at all possible, prior to the construction work for the 14th and Garden traffic light – as I expect that traffic will reroute to 15th street during that time. I await a response but remain optimistic!
Hopefully the new lights at 15th and Garden will help calm the traffic on 15th Street. But the recent observations of continuous traffic violations at 15th and Bloom/Washington/Hudson by multiple residents in the area are telling us a different story. Hoboken PD has recently indicated that they still regularly enforce 15th Street but that there are many similar situations across Hoboken that they rotate through enforcement. I am coordinating a 15th Street neighborhood meeting with Lt. Petrosino so we can share concerns so let me know if you would be interested in attending. We haven't set a date and will not be able to accommodate everyone, but will let you know when we do.
18 STORY TOWERS ON WEEHAWKEN COVE – MEETING TONIGHT!
For those of you unaware, I have been attending the Weehawken Planning Board meetings for
a large scale development being proposed across the Weehawken Cove in Weehawken
. The project is for two 18 story towers connected by a 7 story parking and retail structure all that effectively constitute 100% lot coverage. I have been attending primarily to better understand (and voice concerns as necessary) the traffic implications to Hoboken as it is being built on Harbor Blvd resulting in increased traffic spilling out into the intersection of 16th and Park. Additionally, what we discovered is that the developer does not plan to provide access to the northernmost point of what will be the Cove Park part of Rebuild By Design which I raised as an issue.
There have been a lot of concerns voiced about the project primarily by Weehawken residents as well as by our own waterfront advocates
Fund for a Better Waterfront
about the height, density, lot coverage, and that it is effectively being built right up to the border of the Hudson River Walkway and the RBD structures. The entire site will be raised above design flood elevation to minimize public safety concerns, but this has not yet been fully vetted. As proposed it will be 200ft which is higher than the Hudson Tea Buildings (at ~181ft).
I plan to attend again this evening – 730pm at Weehawken High School if you would like to join me.
MOBILE DMV (OR WHAT NJ CALLS MVC) – YES OR NO?
Yesterday, our Assemblywoman Annette Chaparro arranged for the State to bring both the
Motor Vehicle Commission
and the
Department of Health and Human Services
to Hoboken. From 10am to 2pm the MVC parked two buses adjacent to City Hall and over 100 Hoboken residents came to renew their license or registration or any other matter (other than driving tests and picking up plates). And many also stopped at the table to better understand the myriad of state services available, that many are completely unaware of, to help with such issues at addiction, mental health and aging. I stopped by to see the event and what I saw were, and I am not overstating this when I say it, but smiles of joy and excitement. I spoke with several people who partook in the services and they were just elated on having these in Hoboken.
I spoke with Assemblywoman Chaparro and Tanya from the MVC about if this can come back, how often and whether we could also have one uptown (or even in the back of Hoboken). They said if there was demand, they would definitely come again and I advocated to have one of the two MVC buses be stationed uptown. So I can give her feedback on whether there is demand for it, please let me know if you would attend this next time. I definitely will!
QUESTIONS ARISE ABOUT RECENT FLOODING EVENTS
Two weeks ago the City once again saw Citywide flooding from a heavy rainstorm. With so much focus on and investment in resiliency in our community, people have the expectation that flooding events should no longer occur and unfortunately, that is not the case. The mayor put out this explanation after the most recent event
describing how our flood pumps and resiliency parks have helped to alleviate flooding
in every day rain events vs. years ago. But certain rain events still overwhelm our system where rain comes in faster than it can be pumped out – but that our pumps will still drain flooded areas faster than previously. I saw this recently with before and after pictures an hour apart at the intersection of 15th and Park which is a heavily flooded area.
That said… I heard from neighbors this last time who live in areas that typically don't flood, that their basements flooded. Specifically the 1200 Block of Garden St. and the 1000 block of Hudson St. They all indicated that this is only a recent change – in the past few years. Both are not in flood zones and are above flood elevation so are experiencing flooding from underground, from our CSO system being overwhelmed. So what suddenly causes this? Is it just unique torrential rain events? Is it that our system is somehow constrained? Is it that our system is at capacity? I have reached out to the NHSA to understand better. If you feel like this describes you as well – that you are suddenly experiencing flooding that had never existed previously, please let me know. Also, I know that many of you experience it all the time as you live in areas that are low lying. And answers to these questions may also help your areas as well.
RE-ELECTION UPDATE/WAYS YOU CAN SUPPORT ME
Thank you to the 70+ people who joined me for my Kick-Off event at The Madison Bar and Grill on July 15th. It was a perfect evening all around made special by my father introducing me.

My re-election campaign is officially underway and I have been speaking with 2nd Ward neighbors and collecting nominating petitions to get on the ballot. If you would like to support me, whether you are a 2nd Ward resident or not, here are several ways:
Help me get on the ballot by signing a nominating petition (attached):

If you are a 2nd Ward resident and registered voter, you can fill out a nominating petition for me. It's easy, just write your address at the top, and sign and print your name. I can bring one to you or you can print the attached and sign and I will come to you to pick up! Thank you to everyone who already has!

Be an Ambassador for my campaign:

Telling everyone you know in the 2nd Ward that they should vote for me. And when we get closer to Election Day, helping to make sure they do.
Introduce me to 2nd Ward friends and neighbors:

This we can do one-on-one or even in a group setting at my home or yours. Just let me know how we can best make this happen!

Contribute to my campaign:

Thank you to those of you who have been kind enough to contribute to my campaign both with services and financially. For those of you who have asked already and those of you I am officially asking:
Please donate to my campaign at the link below:
When I ran in 2015, I spent approximately $22,000 to reach potential voters. I didn't actively ask for contributions (although I received about $10,000) because (a) I felt uncomfortable (still do) and (b) I thought I wouldn't win because of not knowing how to campaign. This time around, I am more confident not only in my ability to campaign but also in the record we have created together in getting important things done in Hoboken. And this time around I realize that I both want and need your support to continue tackling all of the important issues that lie ahead. So thank you in advance for considering
contributing to my campaign
.
I wanted to share with you a couple of my takeaways from my Kick-Off event. First – this re-election is a team effort. I am doing this with and for you and all of the rest of the residents in our special community but it is specifically your engagement – those who came that night and your future efforts – that makes it worth it and makes it all happen. Second – when I looked across the room, what I saw were people from all corners of the 2nd ward, all corners of Hoboken, different political parties, different socio-economic backgrounds, and some people who have not been in the same room together because of historic local political divisions.

At a time when divisive politics are attacking our spirit everywhere, it was refreshing and inspiring to see how politics can also be positive and unifying. And a few who joined that night shared with me that they felt the same way.
Our community is so special because of all the voices in it. And we are best when we are unified and working together not divided and working against each other. And if I can be one of the voices that brings people together, then I will have done the best job for our community that I could ever hope to do.
As always, please forward to anyone you think may be interested in this. And don't hesitate to email me or call at 201/208-1674 to discuss this or anything else important to you. And a special thank you to the team at the Madison Bar and Grill for setting the perfect stage to Kick Off my campaign! Let's do this, together!