Councilman Phil Cohen: "Coronavirus Update, Special Hours at Supermarkets, and the Latest on the Census"
Official release: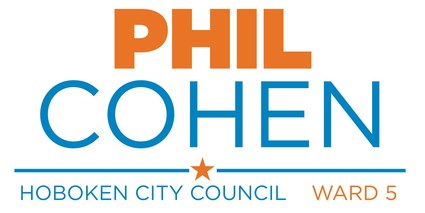 In these extraordinary days, I want to thank each and every one of you for your perseverance and calm, as we pull together as a community in the face of an unprecedented pandemic.
As of March 26, Hoboken, unfortunately, has 56 residents who have tested positive for COVID-19. Some have completely recovered, a few are hospitalized, and the remainder are self-quarantined at their homes.
Hoboken has been in the vanguard of our country's fight against this novel Coronavirus. The City closed bars and restaurants and imposed a 10 pm to 5 am curfew on March 14th, days before Governor Murphy took similar State-wide action. On March 17, the City closed all non-essential businesses as well as all playgrounds, schools, movie theaters, daycares, and recreation centers. Hoboken has also limited public meetings to five people or fewer and has been pushing for a policy of social distancing. You can read more about this
here
. The Director of Harvard's Global Health Institute was so impressed with Mayor Bhalla's leadership that Dr. Ashish Jha stated on CNN
"I think Hoboken probably is the model we all need to move towards now." You can read more about this
here
.
These steps were put in place by
the City of Hoboken to protect our healthcare system, by attempting to"flatten the curve" of expected new cases. See here ????????????????
The City's Office of Emergency Management (OEM) and the Community Emergency Response Team (CERT) established hotlines for COVID-19 general information and for our seniors.
The COVID-19 hotline is 201-420-5620 and the Senior Hotline is 201-420-5625 open 7 days a week from 9 am until 8 pm.
Both hotlines are staffed by helpful volunteers waiting for your call. You can read more about it
here
.
On March 16th Mayor Bhalla sent a request to our Congressional representatives for federal aid for our struggling small businesses and their employees. You can view the letter
here
. It was great to see Hoboken's and Hudson County's Democratic and Republican Chairs join Mayor Bhalla requesting federal aid for our local businesses and their employees impacted by the COVID-19 pandemic because
addressing the economic fallout from this national emergency is a non-partisan issue
.
You can read more about it
here
.
To help small businesses in Hoboken, the City has partnered with Help Main Street to compile a central list of Hoboken businesses with online gift cards. It's an easy way to purchase multiple gift cards to lend a hand to our small business owners and employees. Visit the site
here
!
Donating Hand Sanitizer to the Housing Authority
As so many Hoboken residents have done, I, too, have looked for opportunities to help our neighbors.
Recently,
I was fortunate to acquire a 200-ounce lot of hand sanitizer. I left the lot with my friends at Fox Hills Gardens at the Hoboken Housing Authority's office. Working with Director Recko and the HHA staff, the hand sanitizer was distributed in Fox Hill and other HHA buildings to better protect our most vulnerable neighbors.
Hoboken Supermarkets and Walgreens Help Our Seniors
Shop-Rite, Kings, and ACME
Our Hoboken supermarkets are now providing special hours for the vulnerable in our community. Shop-Rite, Acme, Trader Joe's, and Kings supermarkets are all taking steps to help our Seniors (65+), pregnant, immunocompromised, and disabled members of our community, setting morning hours for exclusive access. You can view their hours in the chart below.
Trader Joe's and Walgreens
Monday I spoke with the manager at
Trader Joe's
, and he confirmed that every day, from 9-10 am, there will be a separate line outside the store for Seniors, disabled, immunocompromised, and pregnant customers. The store will not be closed to other customers, but our vulnerable neighbors will have priority from 9 am to 10 am.
Additional Trader Joe's COVID-19 policies include:
– 50 person occupancy in store
– Hand sanitizer at entrance and exit
– Only half the store's registers are open, leaving spacing between registers.
Walgreens'
manager confirmed to me that Walgreens now has Senior hours every Tuesday morning from 8 am – 9 am.
Thanks to Hoboken's supermarkets and Walgreens for stepping up and working to better serve our community at this extraordinary time
.
Hoboken residents should have received notices about their Census forms in the mail.
In order to be eligible for critical funding for our schools, roads, housing initiatives, non-profits, and so much more, it is
critical
that all Hoboken residents complete the 2020 Census.
It takes less than ten minutes to fill out the questionnaire online but creates a big impact on the community. I
n order to get the funding we will need from our state and federal government in response to COVID-19, Medicaid, Medicare and more, we must be counted. You can see more about the importance of completing the Census
here
.
March's Coffee with Cohen
Thanks to our hosts at Tosti Cafe, and the 5th Ward residents and business owners who stopped by and joined my Coffee with Cohen event March 2nd. Special thanks to
Jay Geldziler
from Assemblyman Raj Mukerji's Office, Councilwoman Emily Jabbour and my daughter Madeline
for stopping by. I enjoyed answering questions and discussing our response to the Coronavirus, the status of NY Waterway negotiations, the NJ Transit railyard development and historic preservation, Hoboken's Hospital, our City budget, and sunken boats in Weehawken Cove over coffee and yummy croissants.
Announcing April's Coffee with Cohen, the Home Edition!
In our new era of self-isolation and social distancing, I am pleased to announce that my next constituent meeting will be
Coffee with Cohen, the home edition!
This will be a Facebook Live Chat. Bring your coffee, set up your phone or laptop, and we will live chat together. Mark your calendars, for the first Monday of the Month,
April 6 at noon
, where we will share your questions and comments, from your home.
You can rsvp and see details
here
!
Are You a Public Health Nurse or an Epidemiologist? Hoboken Needs Your Help.
The City of Hoboken is looking for volunteer public health nurses and epidemiologists to assist with managing COVID-19 data issues. Please email Director Pellegrini at lpellegrini@hobokennj.gov with the subject line "public health nurses and epidemiologists" if you can assist.
If you want to reach out, or I can ever be of any assistance to you, please do not hesitate to contact me at HobokenPhil@gmail.com
Thanks, and best wishes to you and your family.
City of Hoboken, New Jersey
P.S. You can learn more about me and my ideas for Hoboken on my website,