Huffington Post reports on Eli Manning – Mayor Dawn Zimmer fundraiser
The Eli Manning – Mayor Zimmer fundraising effort at the Madison latter this month is not only going viral in town – it's gone national.
The Huffington Post picked up MSV's announcement last night today reporting: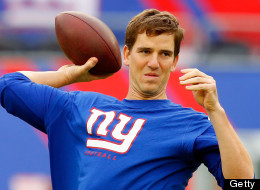 New York Giants quarterback Eli Manning is jumping into New Jersey politics, hosting an expensive football watching fundraiser for Hoboken Mayor Dawn Zimmer (D) later this month.
Zimmer's campaign is circulating invitations to the high-dollar event, featuring Manning and his wife, Abby,
PolitickerNJ.com reported
. Held on Sept. 30 at a bar in Hoboken, the fundraiser will feature football along with politics. Eli and Abby Manning live in Hoboken.
To read the complete Huffington Post story see the link:
Talking Ed Note: While NY Giants Quarterback Eli Manning's working with Mayor Zimmer is national news, don't expect to see a word about it on Beth Mason sponsored Hoboken411.
The three Move Forward candidates were swept by the Kids First ticket.