Councilwoman Tiffanie Fisher 'Your voice today is Hoboken's future'
Official release: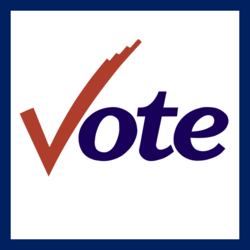 Dear Friends and Neighbors,
It is Election Day! So please make sure you exercise your civic right to vote,
VOTE
1C
and get your "I Voted" sticker!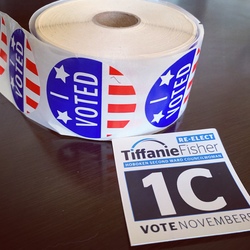 I cannot thank you enough for your support over the last few months on the campaign trail. It has been an incredible experience for me and I could not have done it without your support. I am writing again to ask you for your help to make a big Election Day push to the finish line!
Polls are open from 6:00 AM to 8:00 PM
, and I am counting on your support! Getting out the vote on Election Day can be challenging particularly with lousy weather so your vote is even more essential. Remember, that if there is any issue at the polls, you can always vote provisionally!
You can help in many ways but the biggest one is VOTING
1C
!
Remember, if you support me, don't rely on other people to elect me – every vote is needed! You can also hand out literature, carry signs, or wear a "VOTE
1C
" t-shirt, pin or sticker as long as you are at least 100 feet away from the polling locations. You can even still
DONATE
(I have plenty of bills to still pay…). It all helps!
Please stop by Choco Pain at Hudson Tea beginning at 7am where we will have our Election Day headquarters.
You can grab election gear, help with GOTV and even make phone calls during the day to remind supporters to make it to the polls before 8pm! We can use your help even if you have a little time to spare or a lot!
And if you wear your "I
Voted
Sticker
" you can get some 2nd Ward Election Day Discounts!
So Vote!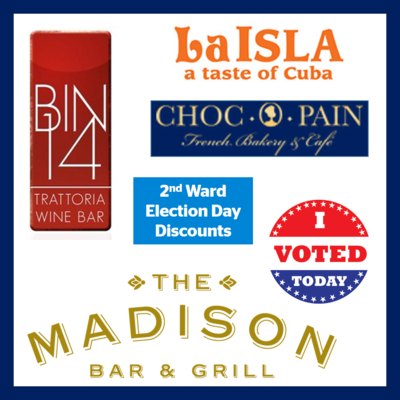 Wear your "I
Voted
Sticker
"
, head to the 2nd Ward to celebrate voting, and get discounts at the restaurants where I had or are having events during my campaign:
Choco Pain at Hudson Tea

where I have my Election Day HQ will be offering 20% on all drinks all day for people with an I Voted Sticker!

Bin 14

is where we will be having our Election Results Gathering – get 10% off your bill after 5pm with your I Voted Sticker!

Madison Bar & Grill

, where I held my Kick-Off Event last summer will also be giving 10% off your bill after 5pm with your I Voted Sticker!

La Isla Uptown

, where we all came together for #Morevoices and Mojitos!, will also be giving 10% off your bill after 5pm with your I Voted Sticker!
Thank you to Clemence, Anthony, Dave and Armando for giving people even more reasons to vote!
If you voted by mail, stop by Choco Pain for your
"I
Voted
Sticker
". I have a stash from last year, the first year Hudson County has had them.
Getting "I
Voted
Sticker
" for Hudson County was a great personal accomplishment for me. I heard from many of you about how those silly little stickers made such a difference and even said it made voting a family experience. Its often the small joys in life that matter most.
Once the polls close, I would love for you to join me at Bin 14
at around 730 as we wait for the results to come in. We should have the machine results very quickly – by 815 – and then will await VBM's and provisionals. Win or lose I would love to be surrounded by all of you who supported me in this campaign and for the last four years.

This has been an amazing journey with all of you. Whatever happens, I have been honored to work with so many of you in so many ways and do so much good for Hoboken. Please come out and vote tomorrow and VOTE
1C
so I can keep engaging with, informing and advocating for all of you.
Thank you again for all of your support! Vote early and see you at the polls!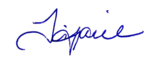 Hoboken City Council, 2nd Ward
Engage
.
Inform
.
Advocate
.