Councilwoman Tiffanie Fisher: "Monarch, Former UDD and Weehawken Cove"
Official release:




Dear friends and neighbors:
Today it is all about Hoboken's precious waterfront and what you can do to protect it. And a little bit about north end traffic too…
6/5 Closed Session for Monarch Settlement Proposal
As I have mentioned previously (
1/16
and
2/13
), the administration has been working with Applied / Ironstate on a potential settlement to the long-standing litigation and on Wednesday there will be
closed session
at 6pm prior to the City Council meeting where the Council will be briefed on a proposal. The administration has kept these discussions close to the vest, so we are unaware of what the proposal entails other than it may include the possible development of the City-owned DPW site (which is already subject to an approved
redevelopment plan
).
The
Hoboken Residents
behind the campaign to Save the Hoboken Waterfront, are asking for your help –
sign the petition
(3,200 have already signed!) and join them to attend the City Council meeting at 7:30 to speak on behalf of protecting the northern waterfront. THERE WILL NOT BE A VOTE AT THE MEETING, but this is a good time to come, while Monarch is fresh in the City Council's mind, to let the governing body know how important our waterfront is. Although the meeting starts at 7, we do not expect public comments to start any earlier than 7:30 pm.
Governor Murphy Needs to Hear From You on UDD
Our friends at Fund for Better Waterfront and Hoboken Residents for a Better Waterfront have worked tirelessly to ensure Hoboken's voice remains loud and that we continue to send the message to the Governor to find a different location for NYWW's Diesel Depot. If you have not done so already, please
sign the petition
and add your name to the list of 1,600 others who already have done so to deliver the message to Governor Murphy. The fate of Hoboken's waterfront and Hoboken Cove is in his hands.
Two, 18 Story Towers To Be Built on Weehawken Cove??
Tomorrow night (6/4) at 730 pm at the Weehawken Administrative Complex at 400 Park Ave in Weehawken, there will be the second planning board meeting for a proposed complex to be built right along the NW shores of Weehawken Cove. I understand that the proposed complex will include two, 18 Story residential towers with 300+ units, mainly studios and one bedroom to appeal to a more "transient" population. And the developer, Hartz Mountain, is proposing to realign the adjacent roadway. These towers will be 20-30 feet taller than the original Hudson Tea Buildings which are only that tall because they were adaptive re-use of an existing building.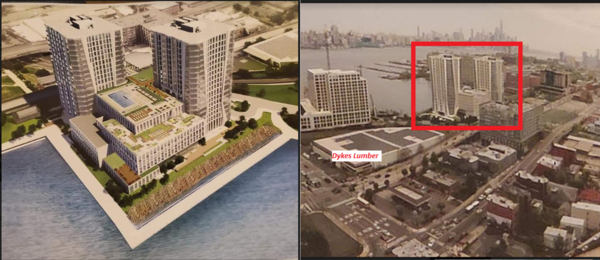 Photo Credit J. Leon
The massing of the proposed project, with what feels like 100% ground level lot coverage will be excessive relative to our cove and Rebuild By Design park IMHO. But the other reason I am sending to you is that this will clearly have an impact on traffic and getting in and out of Hoboken. So it would be great to have some Hoboken residents attend and understand the plan better and voice concerns. I have attached a copy of the notice for the first meeting that was sent to me (it was continued to tomorrow night with no further notice). I understand that traffic was not presented and discussed at the first meeting and may be discussed at the one tomorrow night. I do not think I will be able to attend but if you decide you are going, please reach out to me and let me know how it goes.

Since 2011, I have been fighting to protect our waterfront. It started with Monarch and grew to include UDD and Rebuild By Design. This is tiny compared with the many in our community who have been fighting for decades. But it takes all of us to do our small – or large – part to make a real difference. If you think our waterfront is the jewel of our community like I and so many others do, then please do your part – small or large – this week. Please forward this to everyone to help educate and inform our community on this important issue. And as always, feel free to reach out via email, text or phone (201-208-1674) about this or anything else important to you.
Hope to see you on Wednesday!