Councilwoman Tiffanie Fisher: 'Hoboken stood up for itself against Ravi Bhalla's big Redevelopment Plan'
Official release:
Dear friends and neighbors –
A few quick comments first on tonight's City Council Agenda, then an update from last night's meeting:
Why do I refrain from voting?
I have taken the position for my entire time on the City Council that because I, like over 400 of my neighbors, have a view impact if Monarch is built, the ethically right thing to do is refrain from voting. I know there is a pathway for me to vote given the impact to me is shared with many others and because Monarch was a platform issue for me – meaning people voted for me specifically because I led the public advocacy. But I believe strongly that any settlement or activities relating to Monarch will need to have unanimous support of the Council to pass. And so far this has been the case – it is either a good deal for all stakeholders and everyone gets behind it – like the current settlement, or it isn't – like the one from two years ago. And please note that through my continuing advocacy to make sure Hoboken is never the underdog in any development related matters – by bringing better financial and real estate tools to all negotiations – this benefits all real estate related discussions including Monarch.
There are no votes on either of these on tonight's agenda. I know many members of the community have asked if legislation on each of these would be put forth prior to the upcoming election, so I wanted to let you know there will not be any votes on these tonight.
We came. We saw. We are carrying.
First and foremost, I am so proud of all my neighbors who came out last night and who emailed me with comments. We had a full house at the Multi-Service Center including all nine council members. And I know you are probably tired of me saying this by now, but I really believe that more voices are better.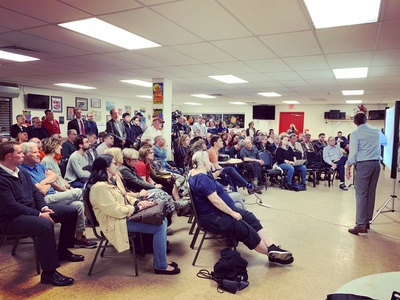 The meeting itself I felt was very constructive overall. City Council President Giattino informed the group upfront that the vote on the plan will not be tonight, but rather will be
carried to a future meeting
. I think this actually allowed for a better discussion as it took the pressure off. She had directed the administration on this last week but due to a glitch on the online agenda I didn't see it until late yesterday. You may have seen last night that the mayor, who did not attend the meeting, sent out
a Nixle alert
after the meeting asking the Council to table the vote to give time for more public input.
Our neighbors raised a number of questions about traffic and parking, the environmental impacts of the building, and future development. Brian Barry of LCOR (the developer) presented their plan and gave important context to it. A traffic engineer from Maser engineering gave some color on the traffic study they did (for LCOR) but limited her comments to say that traffic would be worse (shock). Councilman DeFusco suggested that the Council not vote again until the public can see the traffic study.
LCOR's presentation.
Brian Barry gave the same presentation he had given to me and other council members. He stressed the level of activity between all the stakeholders (NJ Transit, Port Authority, NJDEP, Governor Murphy's Office) to get to this point. And walked the crowd through all the constraints on the site that led to the proposed amendment which I think many in the crowd appreciated including:
he felt that the future development site was not buildable if the RBD resist structure is built (I still question this).
He told the crowd that the reason for changing the use of the second building from commercial to residential is due to the footprint constraint – they need 30,000 square feet per floor for a commercial tenant, and they only have 16,000 square feet there because of RBD.

He also felt the residential use will probably be smaller footprint apartments and more transient type residents given its location between an active railyard and observer highway (he stressed it probably would not attract a lot of families).

He indicated that the buildings that were presented are just massing and not the final design – meaning they do not plan to build just blocks as presented (that actually may mean they get taller, but skinnier/more architecturally interesting).

In terms of timing, he indicated he will need two full years to deliver an actual redevelopment agreement, but getting approval for the plan provides the confidence to spend all the money etc. on the various necessary studies, reports, and technical plans.
So where does that leave us?
In a nutshell, this is about the differences between the developer's priorities and the City's. But that is no different than any development that happens in Hoboken. The goal is to find as much common ground as possible and enough common ground that it works for all parties. The challenge here is that for Hoboken, the potential population growth that we face is at the root of all of our quality of life concerns. And most development – especially residential – feeds this growth. So tonight we saw the passion from our neighbors concerning traffic congestion, stress on our infrastructure and lack of capacity on all of our transportation lines, and concerns about what adding 500 transient residents to our downtown area might look like. Now it is up to us – and by us, I mean the public, the developer and your elected representatives – to find the pathway to enough common ground that can work.

At the end of last night's community meeting at around 945 pm, I spoke with representatives of the union that I have referenced before who have been behind
attack ads
and recently
endorsed a number of Hoboken candidates
, including my opponent. That union has 38 Hoboken members, several in the room last night. These are people I have met before and to me it was the same kind of constructive conversation I have always had with them.
I believe I was able to get them to understand the importance of public input in large developments such as the Rail Yards and t
hey expressed their frustrations with the project taking 14 years. As if on cue, we were interrupted by Vijay Chaudhuri, the City's Communications Director and the mayor's former campaign manager who said "the Mayor is on the phone and wants to speak with both of you…" Five minutes later the City's Nixle alert went out with the mayor asking the Council to delay its vote. But even more incredible is his statement actually suggests that
the proposed amendment is now somehow the City Council's
and not his. I can only shake my head…
Tonight is the last council meeting before Election Day which means hopefully the end of what is tragically known as "silly season". And no one is more relieved than me. Hopefully beginning November 6
th
, we can just get back to business and leave the unfortunate election politics that Hoboken is known for behind.
As always, please forward to anyone you think may be interested in this. And feel free to email me at hoboken2nd@gmail.com or call me at 201/208-1674 to discuss what you have read or anything else that is important to you. If you haven't already, visit MY WEBSITE is up and running where you can find the DONATIONlink to help with my re-election campaign and a lot of information including my PLATFORM and all of my PUBLIC STATEMENTS. Thank you to everyone who has told me they are supporting me, to those who have already shown their support, and to all of you who will be voting for me on November 5th. If you still have any questions that you want me to answer that will help you get to yes, if you are not there already, please just let me know.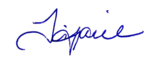 Hoboken City Council, 2nd Ward
Engage
.
Inform
.
Advocate
.