Councilwoman Tiffanie Fisher: "Help Hoboken"
Official release:
Dear friends and neighbors,
Thank you to all who quickly let me know some of the important links in this didn't work! TGIF…
I hope that you are safe and finding sanity during these trying times. My natural state is to look for the positive in things. And amidst this crisis, although we are being bombarded with fear and bad news everywhere we go, one of the sources of light is seeing the many in our community who want to help others. If you are one of them, and I am sure you are, here are a few ways you can:
More Food for More People
TO CONTRIBUTE non-perishable foods, go to
hobokencc.org/wishlist
or the pantry section of any other online retailer/grocer. Unfortunately at this time, no in person contributions can be accepted.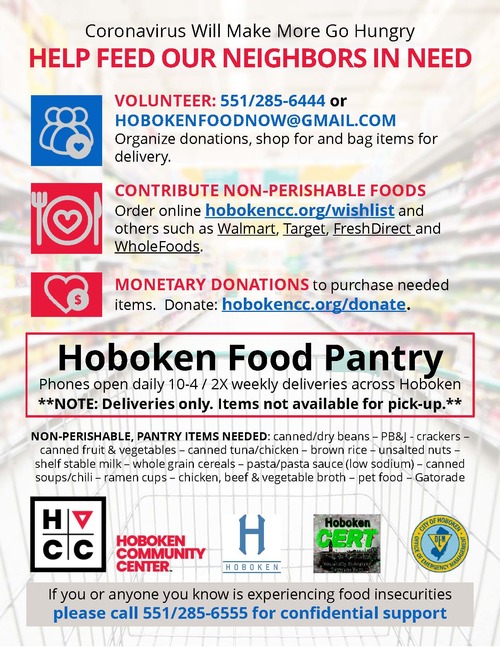 (pdf of flyer attached with embedded links)
IF YOU OR ANYONE YOU KNOW IS HUNGRY, please call 555/265-6555 or email HobokenFoodNow@gmail.com to receive confidential support and request a food delivery.
In addition to the public health emergency, a big concern I have had, like I am sure many of you, is the sudden crisis that will leave many we know (and don't know) without a reliable source of income creating housing and food insecurities. For the past two weeks I have joined Councilmembers Ramos and Falco in working to expand Hoboken's current network of food sources. We have partnered with the
Hoboken Community Center
, led by the indomitable Toni Tomarazzo, to expand the footprint of HCC's Food Pantry to reach more of our neighbors during this time of need. With help from the administration and
Hoboken's OEM
and
CERT
teams, the expanded Hoboken Food Pantry was relaunched on Wednesday and already has received great support!
With donations received we have already been able to buy 2000 lbs. of food from the
Community FoodBank of NJ
for delivery next week. We have received requests already from 45 families and expect more. But this is just week one! Please consider volunteering, contributing or donating to help address what we think will be a continuing and growing need.
Let's make sure no one goes hungry in Hoboken.
To Support Your Local Businesses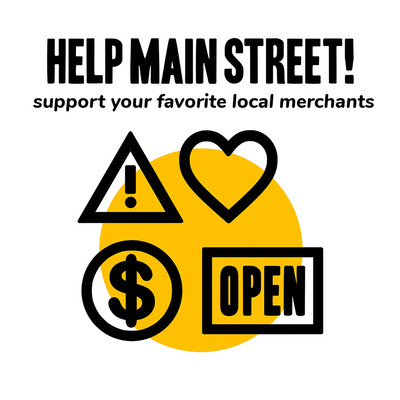 Helpmainstreet.com
is a site that was
founded just two weeks ago
to support businesses who have been devastated by this crisis. They already have 14,000 restaurants on their site, include almost 100 from Hoboken. Its as simple as going to the site, typing in 07030, and seeing all the Hoboken businesses. These businesses are still operating but with new business models just to survive – takeout and delivery or mail order. So buy a gift card for your own use or as a gift instead of cash. Every little bit counts.
If you have a favorite store that you do not want to see close, then do your part.
Also, if you see that one of your favorite businesses is not included, reach out to the business and tell them
they can easily just add themselves here
.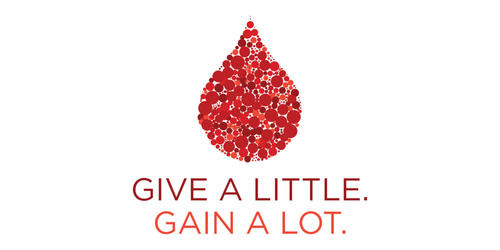 At the core of any public health crisis is having a sufficient blood supply to support those in need. There are two different blood drives next week. The first is April 2nd and 3rd at All Saints Episcopal Day School. There are still some slots left, so
click here to reserve
.
The second blood drive will be one organized by the City of Hoboken on April 8th at the Multi Service Center. Details to follow.
HEALTH PROFESSIONALS AND VOLUNTEERS NEEDED
Hoboken and Hudson County Regional Medical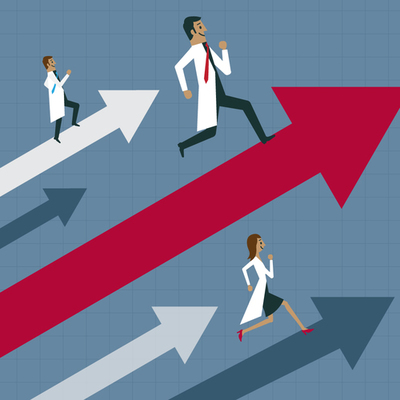 As the number of Coronavirus cases increases – as of this writing we are at 56 – the City of Hoboken's Health Department, which like many are not adequately staffed for a public health crisis, is looking for either a public health nurse or epidemiologist to assist with the caseload. If you are someone with this background and want to help, please email Director Leo Pellegrini at lpellegrini@hobokennj.gov.
A COVID-19 Test Center just opened at the Hudson County Regional Hospital this past week. Medical and non-medical volunteers are being requested. Please contact Christina Butieb-Bianco at cbutieb@hudsonregionalhealth.org if you are interested in volunteering.
Medical volunteers to conduct testing are needed for 9AM to 6PM. These individuals may be: perfusionists, physicians, physician assistants, pharmacists, dentists, nurses, paramedics, respiratory care practitioners, medical technicians, laboratory technicians, emergency medical technicians. Fit testing and training will be provided to those who volunteer.
Non-medical volunteers are being requested to assist with a call center for scheduling from 9am-9pm. This will be done at the Hudson Regional Hospital as well. Training will be provided; volunteers need to be able to read a script, answer calls and take down non-medical information (check boxes).
The Very Best Way to Help
No one is saying you should do this 100% if the time. Walk your dog. Buy food. Exercise. But if you do, KEEP YOUR DISTANCE FROM OTHERS. Even if for some reason you are less concerned about all this, do it for and respect your neighbors, your friends, and/or the many other people around you who are concerned. And if that isn't enough, do it for my mom. Or your mom. Or your friend's mom. And if I still haven't convinced you, do it for these men and women: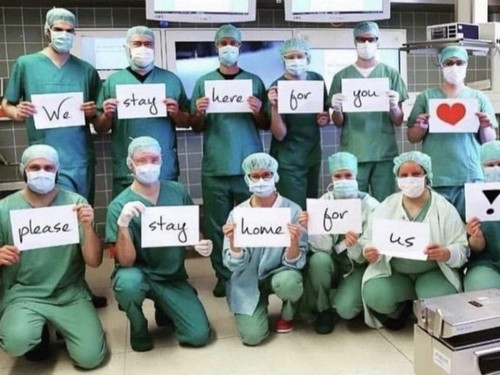 To Every Single Person You See Working For You
Firemen/women, policemen/women, ambulance drivers, doctors, nurses, all healthcare workers, cashiers, delivery people, postal workers, concierges, porters and maintenance staff, building managers, trash workers, truck drivers, baristas, childcare workers, cooks, grocery store workers, dog walkers, toll workers, plumbers, electricians, government workers, fast food workers, bus drivers, transit workers, and veterinarians (my apologies for anyone I have missed). You don't have to think long and hard about what this would be like without them.
201-420-5625 – Hotline for Hoboken seniors requesting assistance, or anyone in contact with a Hoboken senior in need.
201-420-5620 – Hotline for people who want to volunteer to help seniors.
Everyday – 9 am until 8 pm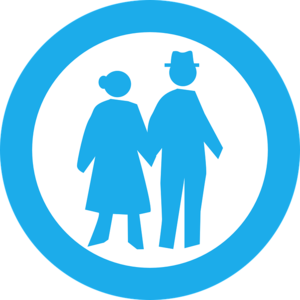 I prepared a list for our CERT team of Hoboken's seniors (>65) using voter data that even excluding those not registered still totals about 3,300. Not all need help but the goal is to reach all those that do. If you or anyone you know may need help, either have them call the Senior Hotline above or call on their behalf. I have already called twice to help two neighbors who needed help getting groceries and prescriptions. Super easy and our amazing Hoboken CERT team is manning the phones and providing the supportive services.
DONATE TO OTHERS SUPPORTING OUR MORE VULNERABLE:
Hudson County CASA

(Advocates for Children in Foster Care) – Children who cannot attend school and are confined to their homes need learning materials and fun things to do. This is particularly true for foster children who have far fewer resources than middle-class kids. Please help the children served by Hudson County CASA, run by our Hoboken neighbor

Bev Savage

, by sending them workbooks, art supplies and games from

CASA's Amazon Wishlist

to enjoy while they wait out COVID-19.

I haven't written as much recently because there is mainly only one topic in front of us right now that is on all our minds – coronavirus. And I don't want to muddy the waters with even more, mostly repetitive, information. That said, know that I am continuing to advocate for our community. Among others ways, stressing the importance of having daily calls between the City Council and the administration, strongly advocating to keep dog parks open (while simultaneously advising neighbors to practice social distancing), requesting the City provide much needed recovery information around our positive Coronavirus cases
and providing suggestions to help make our open spaces safer for people to use. Additionally as a board member of the Hoboken Business Alliance, I have been working with the rest of our board to build the engine necessary to help our businesses and Hoboken recover from this crisis. As this effort grows, please follow HBA on social media (
FB
,
IG
,
Twitter
) and join a social movement, #HereForHoboken, to show the power of social media and bringing the community together across 07030.
Tackling this catastrophe is a team effort. And by team, I mean ALL of us. Top to bottom, left to right, and everywhere in between. We will get through this together because it is the Hoboken way.
If you, or if you know anyone who might need anything during this time, please do not hesitate to reach out to me and I will do my best to help.
As always, please forward to anyone you think may be interested in receiving this. Feel free to email me at hoboken2nd@gmail.com or call me at 201-208-1674 to discuss what you have read or anything else that is important to you.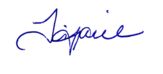 Hoboken City Council, 2nd Ward
Engage
.
Inform
.
Advocate
.
---