Councilwoman Tiffanie Fisher: 'The August meeting'
Official release: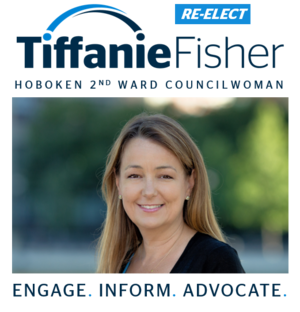 Dear friends and neighbors –
Reminder that tonight the City Council will be voting on important legislation relating to the last two sites on our waterfront that if passed, would pave the way towards completing Hoboken's waterfront.
You can click
HERE
to read the newsletter I sent out on Monday with more details about each piece of legislation.
The votes on both of these items will be at the beginning of the meeting which starts at 7pm. I hope you can make it!
I will be walking to the meeting and leaving from Hudson Tea's circle at 6:15 if you would like to join me.
I expect and hope there will be a sizable crowd!
Eight years of advocacy… potentially culminating in resolution beginning tonight for the last two remaining sites on our waterfront. Although I am confident that the entire council will support both votes tonight, I will breathe easier once the votes are behind us.

Thank you in advance to those pioneers who set us on this path three decades ago with the transformative "
Waterfront
Referendums
" that led to our lower waterfront parks Pier A and Pier C
(
click each word for 2 articles worth reading
)
, many of whom are still in Hoboken fighting today. And thank you also to everyone who have continued to advocate since then – the list is long. We aren't there yet, but we are closer than we have ever been so lets keep working together until we get there.
More voices always matter.
As always, please forward to everyone you think may be interested in this. And don't hesitate to email me or call at 201/208-1674 to discuss this or anything else important to you.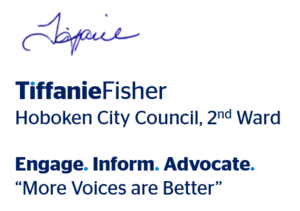 PS – from the second article above from 1992. If you ever thought your vote in an election doesnt matter, it matters most in local elections. Two different votes relating to our waterfront, long before social media, the internet or text phones. One passed by 12 votes and one by 231 votes and are why we have both Pier A and Pier C parks today:
April 1992 NY Times article – "…Preliminary results from the City Clerk's office had the plan defeated by 231 votes, 5,547 to 5,316. Officials later said the margin was 341 votes, but said they did not have the total number available. The office said that about 60 percent of Hoboken's 19,145 registered voters cast ballots.
The first plan to go to a referendum, a larger plan to redevelop Hoboken's crumbling waterfront, was defeated in July 1990 by 12 votes."