Councilwoman Jen Giattino: 'Mayor Ravi Bhalla's second job is a failure to keep commitment made to Hoboken'
Official release: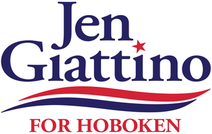 Dear friends and neighbors –
Mayor's Second Job
On February 16th, we learned that Mayor Bhalla took a job at a politically connected law firm. After initially being told his
compensation
was south of $100,000 we recently learned that he will be paid a base salary of $60,000 and 20% of all gross revenue he brings in up to $750,000 and 15% for all additional revenue he brings in with no limit.
He has failed to keep that commitment.
Council Response
Last week the City Council asked Mayor Bhalla to respond to a list of questions to clarify how he will manage allocating his time and potential conflicts of interest between his two jobs. Mayor Bhalla has yet to respond to these
questions.
Flood Ordinance
We need to find ways to protect the character and scale of Hoboken's residential neighborhoods. Under current law we are treating non-flood zone areas like they are flood zones for no good reason and with devastating impact on our housing stock. On March 7th, I will offer an amendment to Hoboken's flood ordinance removing the X and shaded-X zones from the enforcement area. We are seeing far too many facades change and losing the connection between our sidewalks and our homes. Removing these 2 zones from enforcement is just a start.
As always reach out with thoughts and concerns,
-Jen