Councilwoman Tiffanie Fisher – 'Pedestrian safety'
Official release: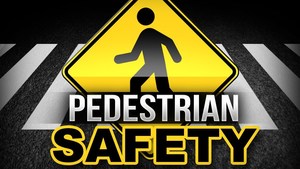 Dear friends and neighbors
I hope you are all managing to stay warm. I consider myself a hearty Rochester girl with too many decades of frigid weather and snow under my belt, and yesterday and today are even cold for me. Stay warm and please check in on any of your neighbors who are more vulnerable. Other than the weather…

Last week, a 2nd Ward neighbor was hit by a car at the corner of 15th & Bloomfield. A car driving north on Bloomfield Street, barely stopped at the stop sign and turned left onto 15th and hit him in the crosswalk in the middle of the day and did not stop. Thankfully, his injuries were limited to a broken leg. This is a picture of the Black Jeep (notice the rims and the formation of the stickers on the windshield). If you have any information please call Hoboken Police at 201/420-2100.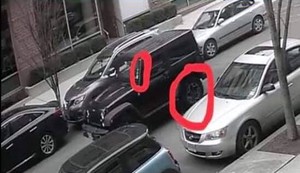 This is a story we are hearing with more frequency not across 15th Street, but across the city.
Pedestrian Safety has been in our local vernacular for a long time, especially under former Mayor Zimmer, with the main focus being improved street design and planning where we have made a number of positive changes. Last week, the administration put out this
video
which highlights Parking and Transportation Director Ryan Sharpe (who specializes in street planning) discussing Complete Streets for Hoboken. With this video, the administration also announced that they will soon be introducing Vision Zero for Hoboken with their stated goal of reducing traffic-related injuries to zero by 2034. This is a great initiative and you can click
here
to learn more about what Jersey City has done since they announced their own version of Vision Zero last February.
There is certainly more we can and need to do now, in parallel – some lower hanging fruit that focuses on changing the behavior of everyone who uses our streets. Just after the accident in my neighborhood I reached out to Mayor Bhalla and shared just a few ideas centered around creating a Culture of Safety in Hoboken that we don't yet have:
Branding Hoboken as a pedestrian city – eg. having signs at our entrances that say something like "Welcome to Hoboken, where pedestrian safety is our number one priority".

Creating a #ShareTheResponsibility type campaign – Although some residents believe car drivers should bear most of the burden of changing behavior, I believe it is as much about making all users of our streets do their part including:

Cars stopping at stop signs, b

ikes stopping at all stop signs and riding with traffic instead of against, and p

edestrians not crossing midblock and not looking at their phones as they cross at an intersection.

Educating Hoboken residents on how they can and need to do their part today.

Creating safety weeks throughout the year and include resident advocacy – eg – residents donning t-shirts and handing flyers out to every car entering and leaving Hoboken that say "Pedestrian Safety is Our Priority" to raise awareness.
How you can be more involved now:
This is about raising as much awareness as possible and you know I believe that more voices are always better.
Almost every person in Hoboken walks out their door every day to go somewhere. That means everyone is a pedestrian. Even if you own a car and use it a lot or ride your bike to and from places. I know it sounds like I am stating the obvious, but we forget this sometimes when we talk about how best to use our roads. At the core, we are all pedestrians and ensuring pedestrian safety touches everyone one of us. And we all need to do our part.

Reminder that the
Plastic Bag Ban
in Hoboken starts TODAY!
Kings FooMarkets will be giving away free reusable bags today and will be selling them 2 for 1 for the next week.
So a great reason to shop!
I know other area businesses are also promoting the ban, but don't have the details so will share when I have more.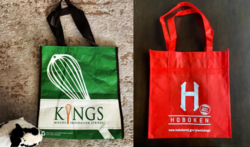 Hoboken is also giving out free bags and you can pick them up at any of the following:
If you forget your bag, dont worry, businesses will be providing paper bags but will be charging

$.10-$.25

to help defray their costs.
CASTLE POINT AND COURT STREET
Last week the City Council was presented with Design Concept plans for both Castle Point and Court Street that reflected input from public meetings and Hoboken's Historic Preservation Committee. The crux of both projects is to rehabilitate the cobbles and bricks on each street which involves re-setting each and installing new ones. Long story short, there is more work to be done and the City Council has asked for alternatives to get the most and best out of these projects. The administration will be submitting these applications this week, along with others, to Hudson County to hopefully qualify for some of the County's Open Space and Historical Preservation grants.
THE COOL PART.
One of the hidden gems in this process is the historical analysis that
Hunter Research
has performed. Did you know that the cobbles on Court Street were mined out of the Palisades? Did you know that Court Street was one of the streets visible on one of the earliest maps of Hoboken in the late 1800's? And did you know that Castle Point Terrace was shown to connect with River Road on a map from 1891? Click on one of the two links, in section 3 of each is the Historic Background. Really cool…
A number of residents have alerted me to the buckling play surface (again) at the playground and the drainage and puddling (now freezing) issues in the dog park. I have raised with the city and early feedback suggests that the playground needs to be resurfaced as we are now out of warranty. And they are looking at resurfacing the dog park at Elysian as well as Church Square and Stevens Parks to K-9 Turf. This is the material that is used at the viaduct dog park. This would provide better drainage and will be easier to maintain. So it's a bigger project, but one that will hopefully be addressed this spring/summer.

Hoboken Zoning Board meeting

, tonight (1/22) at 7pm in lower Conference Room at City Hall. Tonight's meeting has a number of applications in Northwest Hoboken including a new emergency care veterinary facility at the corner of 14th and Willow, a dog day care at 14th and Grand/Adams, and a 6 story office and commercial building at 14th and Grand. Stop by to share your views whether you are supportive or not.
Rebuild By Design

–

Upcoming Design Workshops! If you have any interest in what Harborside Park (at 15th and Park) will look like in the future, then you MUST come to one of these design workshops.


Breakfast Food Drive
, 1/30 from 5:30-9:30pm at
The Shepherd and the Knucklehead
(1313 Willow Drive). Donations of non-perishable, individual portion breakfast foods (i.e. granola bars, individual cereals, oatmeal packages, dried fruit, individual fruit juices, nuts/trail mix, etc.) will be given to Hoboken's
The Jubilee Center
and
Family Promise of Hudson County
which is the only shelter in Hudson County that houses entire families. If the only thing getting in your way of donating is getting to 13th and Willow that night, please email me. I am happy to drive around and pick up your donation. Let's helps some kids eat. Thank you to
HobokenGirl
for organizing and for The Shepherd and the Knucklehead for hosting and offering ½ price appetizers for anyone who donates!

As always please forward this to anyone you think may be interested and feel free to reach out via email, text or phone (201-208-1674) about this or anything else important to you.
Best wishes,

Hoboken City Council, 2nd Ward
Engage
.
Inform
.
Advocate
.