Councilwoman Tiffanie Fisher: 'April happenings'
Official release: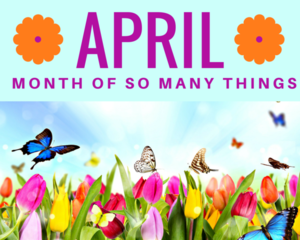 Dear friends and neighbors:
So with that we start April, and hopefully spring, this week with a full agenda of Hoboken features to share with you.


Hilton Hotel Project –

For those unaware, the owner of properties adjacent to the Hilton Hotel site filed litigation citing concerns about the validity the negotiated terms of the project. The project has been delayed as a judge gave a

ruling this week

that questions whether much of the $4.85M in community givebacks are allowed. This was the

response from the City

. More to come…
Our Schools are Bursting At The Seams

–This week, the Board of Education had a meeting with parents of children attending Calabro to discuss planned changes that would have Calabro students (and teachers, etc. ) moving to Brandt next year. The root of these changes are twofold – reduced state level funding and massive increases in school enrollment. Yes, read that second part again – MASSIVE INCREASES IN SCHOOL ENROLLMENT. In the face of rising taxes –

the draft school budget suggests an increase this year of 5.4%

– and significant increases in enrollment at the lower levels, the BOE is suggesting that combining Calabro with Brandt will afford better programming and use of school resources and will allow Calabro to be used for our growing pre-K enrollment.
At least once every two weeks I have a conversation with someone about their belief that they cannot send their children to our district schools. And by the time I get done with them touting all the amazing positives, they say to me "I had no idea…" I will write an entire newsletter in the coming weeks on this topic, but today, the numbers speak for themselves:
Since 2011/12 (9 years), enrollment is projected to be up next year by approximately 900 kids (39% total increase, 4% annually) from 2300 to 3200.

Of these, approximately 87% are PreK-2nd grade representing a 71% increase during the same 9 yr period.

This year's 6th grade is the front of the wave – enrollment this year vs. last year is up 77% in one year from 82 to 145.

TOTAL enrollment in the district schools (pre-K3 to 12th) since last year is up 5% and expected to go up over 13% next year

.
There are so many unforeseen implications to this growth that as a small, landlocked community we have to deal with. And the combination of Calabro and Brant is just the first sign. More to come…
11th Street Baseball –

Just in time for Baseball's Opening Day last Thursday, Hoboken quietly returned the bases to the 11th street and Washington "baseball diamond" that day. New concrete bases with the original brass numbers. A little self-promotion – this was not part of the City's plan. I pushed for this and worked directly with T&M to ensure we retain this ode to Hoboken history. And the timing was perfectly coincidental with Opening Day 2019.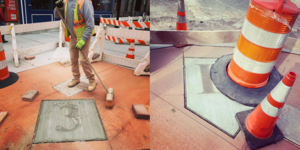 Parking Meter Rates –

tonight is the second vote on the

full repeal of the Dynamic Parking ordinance

. I plan to vote yes on this, but am working with my council colleagues to hopefully come up with a replacement plan that will include some increases that will be supportive to our businesses (incentivizing turnover) but not punitive to our residents.
Revitalizing our Businesses –

You may have read the Hoboken Reporter's article on this…

"Citywide Special Improvement District floated

."

If not, please do. Next Monday, we are having a stakeholder meeting to present the case for a Special Improvement District in Hoboken. If you are a commercial property or business owner and are not yet aware of this meeting, please email me for details. We sent invitations out to over 1600 people. Since I have been on the City Council I have been pushing for an increased focus on Economic Development in our community. As a result of significantly underinvestment and focus in this area, we have been watching our businesses close. I am the City Council representative to the steering committee made up primarily of local property and business owners working together with an advisor who has successfully established over 35 SID's across the area, including the one we all hear about all the time – Downtown Jersey City. This is not a done deal yet, but I am so excited about the upcoming meeting to introduce this to the stakeholders in our community.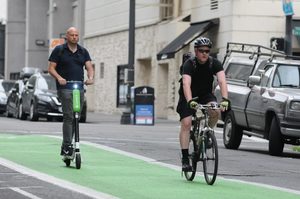 E-Scooters –
Tonight on the council agenda, there are two items relating to E-Scooters. The second reading for
an ordinance to allow them to be ridden in bike lanes
, and a resolution for a
pilot (aka trial) program for 300 EScooters
at no cost to the city. I need your feedback on this – my visceral response is a "No". Not because I am anti-scooter because I am not. I see the value in helping to lead toward less cars. I am leaning 'no' because there is absolutely no parallel legislation regarding enforcement and safety and I have concerns about collisions with children on bikes in bike lanes and with pedestrians when they do not stop at a stop sign. Just google "escooter safety". That said… this is one of those times when I feel like my opinion may not reflect that of the people I represent. So please tell me your thoughts.

As always please forward this to anyone you think may be interested and feel free to reach out via email, text or phone (201-208-1674) about this or anything else important to you.
Best wishes,

Hoboken City Council, 2nd Ward
Engage
.
Inform
.
Advocate
.