Councilwoman Jen Giattino: 'Parking meter Q&A'
Official release: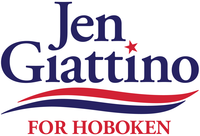 Many of you have questions about Hoboken's visitor side metered parking zones.
Where/What is a visitor side metered parking zone?
Generally the south and east sides of the street in permit parking zones. Non-permit holders pay to park for up to four hours.
Who has to pay meter in visitor side metered parking zones?
Visitors
Who does not have to pay meter in visitor side metered parking zones?
ALL PERMIT HOLDERS
Residential Parking Permit
Business Permit
Visitor Permit
Visitors with hangtags(available at City Hall but will be online shortly)
Why have visitor side metered parking zones?
On-street parking capacity in Hoboken is limited. Visitor side metered parking zones generate more turnover from visitors and help improve parking availability for resident permit holders.
How do Handicapped or disabled person's pay for parking in visitor side metered parking zones?
With a valid disability license plates or placards pay for the minimum amount of purchasable time (15 minutes) within the visitor side metered parking zone, then no additional payments are required for the remaining 3 hours, 45 minutes that the vehicle is allowed to park within the zone. After four hours, the vehicle must be moved out of the zone.
‍
How do I add license plate numbers to my account?
From Parkmobile app, tap on "more" on the bottom of the screen, then "vehicles". From there you can add and store up to five license plates at a time.
I have my Mom and Aunt's license plate added to my account so when they visit it is simple for me just to pay.
Do you believe you have received a violation in error?
Email the Hoboken Parking Utility at
parking@hobokennj.gov
to schedule a time to meet with a Parking Enforcement Supervisor. Include as much evidence as you can to demonstrate the error, including a photo of the ticket, photos of the parking situation, and your Parkmobile parking session receipt.Based on the supervisor's review, they may provide a written report to the municipal court for the judge to take into consideration when making his or her determination. You may still need to schedule a court date and appear in court.
Where do residential permit holders have to pay?
Everywhere you had to pay before. These are primarily in commercial zones. Director Sharp is working on a map to clarify locations, but in the meantime, if you don't see the sign below that says ALL OTHERS PAY BY PHONE 4 HOUR LIMIT residential permit holders need to pay the meter.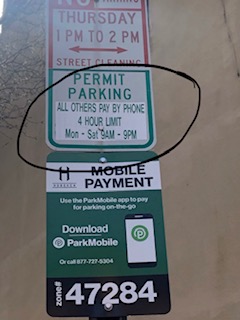 Lastly, on tonight's agenda is a resolution waiving the estoppel(waiting) period on the ordinance that was adopted at the last council meeting to roll back meter prices. This means rates will revert back, Thursday, April 18.