Councilman Ruben Ramos: "Making Hoboken Better for Everyone"
Official release: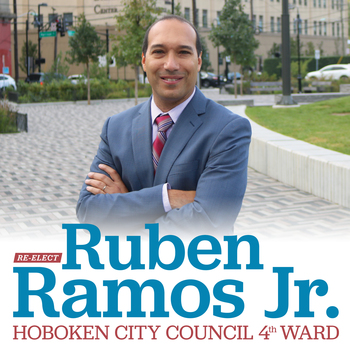 Dear friends,
I grew up here in Hoboken and I've dedicated my life to public service and making our community better for every resident. I'm proud to announce that I have filed my petitions and will be running for re-election as your Fourth Ward Councilman this November to continue fulfilling that mission.
We are continuing to explore additional open space areas for 4th ward residents as well as expanding on current open space areas. The new Southwest park is a great place for families to spend time while also reducing the impact of flooding thanks to improved drainage and flood mitigation technology. We are committed to expanding this park in the near future. The Madison Street Park upgrades have been completed while the Jefferson Street Park upgrades are scheduled for approval at the September 4 council meeting.
We are working hard to insure that Hoboken is safer for all residents. One way that we are doing this is the addition of traffic lights in the Southwest to help with the flow of traffic. The council has additionally authorized a traffic study beginning this week that encompasses Hoboken, Hudson County and Jersey City streets. We will work collaboratively with local governments to generate a plan to ease traffic in Southwest Hoboken to make streets safer for drivers and pedestrians.


It is important that we push forward in efforts to further beautify and improve the 4th ward. The PSE&G site on Marshall Street is a space with great potential and I am very excited to see what it will become. Possible uses for the site will be part of a public discussion to determine what is best for Hoboken residents. We now also have the funding in the budget for demolition of the property at 609 1st Street. This property has long been a major eyesore and it's time for the site to be demolished.


In conjunction with our senior citizens, we are leading the fight for senior citizen services in Hoboken. Hoboken seniors are a crucial part of our community and deserve a strong voice for them in our city government. Our seniors have reached out to me to voice their concerns over the poor condition of the current senior van. Together we were able to deliver a new vehicle for our seniors that we hope will be in service by late October.
Over the last four years with the help of my Council colleagues, we have made real progress in so many important areas. Recently, we secured $1.6 million for the Hoboken Housing Authority which will go towards new reinforced outer doors, security cameras and new boilers. Housing Authority residents are an integral part of our community who are too often forgotten, and I will continue to fight for HHA residents and secure the greatest possible funding that we can in the future.


In addition to getting additional funding for the HHA, we have saved Hoboken taxpayers $600,000by cutting unnecessary expenses, meaning more of your tax dollars will be going towards city services. Living in Hoboken can be expensive and we recognize that many people are living on a fixed income. One of the most important jobs of the city government is to keep our property taxes and rents stable so that we can keep seniors and families in Hoboken. Finding ways to give Hoboken residents the best return on their tax dollars will always be my goal.


A great example of our work to make the city more fiscally responsible was our demand that our water provider contract be renegotiated. The previously negotiated contract with our water provider lacked adequate givebacks and investments for our city's infrastructure. That is why we fought for a better deal which means millions in annual investments into the system without raising rates for residents. The City Council will aggressively fight to improve our aging infrastructure with innovative solutions that don't overburden residents.


Finally, I wanted to discuss how we are making Hoboken safer. According to new data from the Hoboken Police Department, crime was down 17.9% in our city last year thanks to our hard working law enforcement professionals and city government for providing the necessary resources to keep our community safe. In 2018, Hoboken did not have a single homicide and robberies were down 28%. With continued investments in public safety, we expect to continue the trend with lower crime rates.


I would like to thank all of you for your support and advocacy over the years. We have been able to accomplish so much over the years and together I hope that we can continue to push the 4th ward forward for years to come. I hope to earn your support on November 5 to continue fighting for Hoboken.


Hoboken City Council, 4th Ward