Councilman Phil Cohen: 'Mile Square Theater's new production & more'
Official release: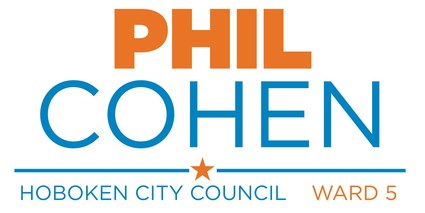 I hope you are well. February has proven to be a very busy month and there's much going on that I want to share with you.
Mile Square Theatre's Excellent New Production
Our own professional theater company, Mile Square Theatre, unveiled its new play "5 Times in One Night" last week. The show runs through March 15th. I saw the show last week and really enjoyed it. An adult comedy (for ages 17+) two-person show with fine actors in a special production, in Hoboken's wonderful local theater, Mile Square Theatre. I agree with the reviewer's comments below:
"5 Times in One Night delivers a breezy 90 minutes of giggles and guffaws — quality theater at a budget price. . . . The chemistry of 'Will And Grace,' the physical comedy of 'I Love Lucy,' and the pratfalls and foibles of 'Seinfeld.' And theater beats television every time. What's not to like?"
Get your tickets now (and leave the kids home).
The Tribeca Film Festival is Coming to Hoboken (and the 5th Ward)!
Have you heard the news? The internationally renowned Tribeca Film Festival is expanding to Hoboken and is coming to the 5th Ward! The festival, which is entering its 19th year, will bring its "cinematic storytelling and experiences" to our Mile Square City in April. This wonderful event further cements our city as one of the major cultural destinations in the tri-state area.
The festival runs April 15-26th.
Stay tuned for schedule and screening details, and I hope to see you on the red carpet at this major Hoboken cultural event. Read more about it here!
If you haven't been to Tosti Cafe (or even if you have), let me treat you to some coffee ☕️ and croissants ???? at the March Coffee with Cohen on
Monday, March 2nd from 8:00 to 9:30 am at 1024 Washington Street.
Come for coffee, croissants, and conversation. I hope to see you there! You can RSVP for this free event,
here
!
United Synagogue of Hoboken's Casino Night ???? ????
The United Synagogue of Hoboken is hosting its always popular 14th annual casino night on
Saturday February 29th
!
Doors open at 7 pm and gaming starts at 7:30 pm at the Elks Club.
Your ticket includes dinner, open bar, prizes, and great games! Come join members of the public and the Synagogue in a fun-filled night of games and music at USH's biggest fundraiser of the year. See you there!
Fox Hill Karaoke Dedication ????
On February 12th I hosted a karaoke dedication for my dear friends in Fox Hill Gardens. I practiced for this special dedication event, but unlike me, my ???? ⛰ friends actually have talent! They sound great and are already using the karaoke machine to program their own activities. I can't wait to return and enjoy their future performances. ????⛰️❤️
Thanks to Mayor Bhalla, Freeholder Romano, and Hoboken Democratic Party Chair Rachel Hodes for attending the event. Your participation means so much to the residents. If you would like to see my karaoke ???? rendition of Frank Sinatra's "That's Life" for the Fox Hill residents click
here
!
Low-Cost Internet Service For Fox Hill Residents
At my karaoke dedication event at Fox Hills, I invited Andrena, a low-cost wi-fi/Internet provider to attend. Andrena offers Wifi internet services for just $25/month, a big cost savings for our Seniors and residents living on fixed incomes. As of mid-February, 15 residents Fox Hill residents had already signed up and they love the service (and the savings)! You can find out if you qualify for Andrena's service
here
.
I was recently appointed to serve on the Council's Public Safety Subcommittee. So, I toured the Police and Fire headquarters with our Chiefs to better understand the work of our public safety professionals.
In January, I toured the Fire Department HQ with Chief Brian Crimmins and met the men and women who support Hoboken's bravest. Then, last week I enjoyed a tour of Police Department HQ with Chief Ken Ferrante. On the Police tour, I met the hard-working investigation unit as they handled a package theft case where the victim was a 5th Ward Jefferson Street resident. I watched the investigators scan hours of security footage to identify a key 30-second clip to solve the case.
We applaud the dedicated men and women in our public safety community who work every day to protect our quality of life.
Railyard Redevelopment Plan
At the February 19 City Council meeting, my Council colleagues and I voted unanimously to approve the framework for an amended Hoboken Yard Redevelopment Plan. The 2014 framework previously authorized by the City Council, required amendment to accommodate the Rebuild by Design resist features which are planned for southern Hoboken. The amended plan reduces the overall railyard development by approximately 1 million square feet and anticipates greater commercial density, and far less residential development at our transit hub, as well as significantly reduced building heights in the railyard development from the redevelopment plan the City Council considered just last year.
Mayor Bhalla and his Administration will now enter the next phase of development, negotiating a redevelopment agreement without inhibiting the completion of the Rebuild by Design project that we absolutely need to make our city resilient. You can read about the Council's amended Hoboken Yard Redevelopment Plan
here
.
Parking and Transportation Developments
More HOP Service! ????
????
The HOP provides FREE shuttle transportation, improving access and mobility in areas least served by public transit. Mayor Bhalla announced that starting March 2nd the City will phase in two additional HOP buses ???? ???? during peak commuting hours! This is good news.
Increased HOP service will reduce our city's carbon emissions, as a part of Hoboken's Climate Action Plan, and keep us on track to exceed the goals of the Paris Agreement by 2050. You can track the location of your HOP bus in real-time, and see your HOP routes using the "Passio Go" app that you can download for free.
Discounted Annual Parking Registration For Seniors, Vets, and Disabled Individuals
During the past City Council meeting I, along with my City Council colleagues, voted (8 for and 0 against (with 1 abstention from Councilman Russo)) to
provide 50% discounted annual parking permits to our Seniors (age 62 or older), our veterans, and persons with disabilities (or $26/year for one car, as opposed to $52/year
). I have spoken with a number of concerned seniors about this issue and want to make sure that you know I will always keep our seniors' needs and fixed incomes in mind when making policies for the City.
Sunday Parking is (and remains) Free!
Some have expressed a fear that in our recent meetings the Council authorized Sunday parking meter enforcement or required visitors to purchase visitor permits on Sundays. This fear is unfounded
. Hoboken's Sunday FREE parking (and Sunday visitor permit-free parking) policies continue unchanged.
New Meter Pricing in Our Business District
Transportation Director Ryan Sharp and the Council's Parking and Transportation Subcommittee (on which I don't serve) recommended, with the enthusiastic support of the Hudson County Chamber of Commerce, that parking meters in our business districts increase rates from $1/hour to $2/hour. The majority of the Councilmembers and I approved this increase with the expectation that we will see an increased rate of turnover of parking spaces in our commercial areas. With this price increase, we expect that more employees will choose to park in municipal lots, leaving prime spots on Washington Street available for customers. This should be good for Hoboken's businesses and good for the customers. The new rates in business districts of $.50 per 15 minutes are slated to begin the week of March 9. You can read more about these issues
here
.
Water Infrastructure Repairs and Major Water Main Break at Willow Avenue and 14th Streets During Presidents' Day Weekend
Hoboken is working with Suez to upgrade water infrastructure at eight locations totaling 7,035 linear feet or 15 blocks. Construction began in September 2019 and is anticipated to last until March 2020. Hoboken plans to replace 18% of its entire water system by 2034. This represents the first time in decades that Hoboken is being proactive in replacing water mains before they break instead of simply providing emergency repairs, a historic shift from years of neglect.
Hoboken experienced a major water main break on Willow Avenue between 13th and 14th Streets on early Saturday morning on February 15th. Thanks to Fletcher Creamer, SUEZ, Hoboken Police Department, Hoboken OEM and to Mayor Bhalla's office for addressing and managing this water main break, so that it was repaired in time for rush hour on Tuesday February 19th. Most of all, thanks to our residents for their patience through the temporary inconvenience suffered as a result of the road closures, traffic redirection, and sporadic loss of water service necessitated by the pipe and roadway repairs related to this 30-inch water main. With the proactive investments we are making to upgrade our water infrastructure, we hope that these incidents will become much more uncommon events for our community.
Thanks, and best wishes to you and your family,
City of Hoboken, New Jersey
P.S. You can learn more about me and my ideas for Hoboken on my website,