City Council President Jen Giattino: "Thank you!!"
Official release: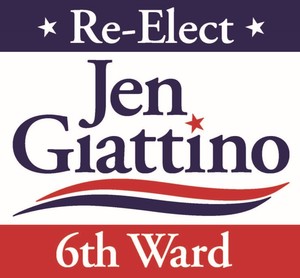 Dear friends and neighbors,
I am truly humbled by the outpouring of support from all of my friends, family, and neighbors who
gave their time and contributed to this campaign in so many ways — registering voters, knocking on doors, addressing so many postcards, hanging up Vote Jen Again signs, and spreading our message far and wide
.
When I first ran eight years ago, I promised the residents of the 6th Ward that I would always be here to listen to their concerns and represent their interests. From increasing park funding and open space to improving our infrastructure and protecting our tax dollars, that has always been my guiding purpose. And when the polls closed on election day, it was clear that that is the type of representative voters here want.
Thank you to everyone who gave their time and energy to this campaign. It is because of you that we successfully fought off two challengers and a deluge of dark money. It was not easy, and I know how hard everyone worked to make this happen. I am truly grateful, and I am looking forward to continuing to serve the people of the 6th Ward.